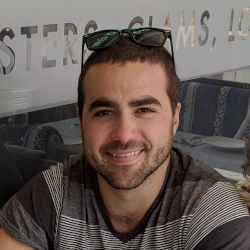 Hello, and welcome to my personal website. I am a Staff Software Engineer at Google Research currently focusing on topics related to privacy-safe information extraction (both large-scale and in low-data regimes), data management systems, and applied ML. Prior to joining Google, I earned my Ph.D. at UCLA under the guidance of Miodrag Potkonjak, where I explored methods for hardware security and low power circuit and system design.
You can find more information about me and my work below and at the following links.
Publications
Work done while at Google.
Hardware Security, Low Power System and Integrated Circuit Design
Work done while at UCLA.
Book Chapters
J. B. Wendt, S. Meguerdichian, and M. Potkonjak, "Small is Beautiful and Smart," Telehealthcare Computing and Engineering: Principles and Design, ed. by Fei Hu, pp. 341-358, CRC Press, 2013.
Earthquake and Tsunami Simulation
Work work done while a summer intern in the Geophysics department at UC Riverside.
Patents
Service
Program Committees
Ph.D. Graduate Admissions Committee

Department of Computer Science, UCLA. 2014, 2015, 2016, 2017.